Global Technical Strategy for Malaria 2016-2030
Author:

World Health Organization (WHO)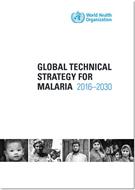 Add to Basket
The World Health Organization's Global Technical Strategy for Malaria 2016- 2030 has been developed with the aim to help countries to reduce the human suffering caused by the world's deadliest mosquito-borne disease.
Adopted by the World Health Assembly in May 2015, it provides comprehensive technical guidance to countries and development partners for the next 15 years, emphasizing the importance of scaling up malaria responses and moving towards elimination. It also highlights the urgent need to increase investments across all interventions including preventive measures, diagnostic testing, treatment and disease surveillance as well as in harnessing innovation and expanding research.
By adopting this strategy, WHO Member States have endorsed the bold vision of a world free of malaria, and set the ambitious new target of reducing the global malaria burden by 90% by 2030. They also agreed to strengthen health systems, address emerging multi-drug and insecticide resistance, and intensify national, cross-border and regional efforts to scale up malaria responses to protect everyone at risk.
Find similar publications here: