Guidelines for the Prevention, Care and Treatment of Persons with Chronic Hepatitis B Virus Infection
Author:

World Health Organization (WHO)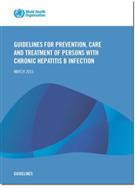 Add to Basket
These are the first World Health Organization (WHO) guidelines for the prevention, care and treatment of persons living with CHB infection, and complement similar recent published guidance by WHO on the prevention, care and treatment of infection due to the hepatitis C virus (HCV). In contrast to several recent international guidelines on the management of CHB infection from the United States, Europe, Asia-Pacific and the United Kingdom (UK), the primary audience for these WHO guidelines is country programme managers in all settings, but particularly in LMICs to help plan the development and scale up of hepatitis B prevention, care and treatment. These guidelines are also intended for health-care providers who care for persons with CHB in these settings.
The recommendations are structured along the continuum of care for persons with CHBa, from initial assessment of stage of disease and eligibility for treatment, to initiation of first-line antiviral therapy and monitoring for disease progression, toxicity and HCC, and switch to second-line drugs in persons with treatment failure. They are intended for use across age groups and adult populations.
The recommendations in these guidelines promote the use of simple, non-invasive diagnostic tests to assess the stage of liver disease and eligibility for treatment; prioritize treatment for those with most advanced liver disease and at greatest risk of mortality; and recommend the preferred use of nucleos(t)ide analogues with a high barrier to drug resistance (tenofovir and entecavir, and entecavir in children aged 2?11 years) for first- and second-line treatment. These guidelines also recommend lifelong treatment in those with cirrhosis; and regular monitoring for disease progression, toxicity of drugs and early detection of HCC. An additional chapter highlights management considerations for specific populations, including those coinfected with HIV, HCV and hepatitis D virus (HDV); children and adolescents; and pregnant women.
Find similar publications here: