Safe Management of Wastes from Health-care Activities
Author:

World Health Organization (WHO)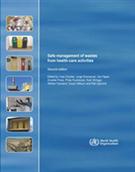 Add to Basket
This is the second edition of the World Health Organization (WHO) handbook on the safe, sustainable and affordable management of health-care waste - commonly known as "the Blue Book". The original Blue Book was a comprehensive publication used widely in health-care centres and government agencies to assist in the adoption of national guidance. It also provided support to committed medical directors and managers to make improvements and presented practical information on waste-management techniques for medical staff and waste workers.
In many countries, knowledge about the potential for harm from health-care wastes has now become more prominent to governments, medical practitioners and civil society. Increasingly, managers and medical staff are expected to take more responsibility for the wastes they produce from their medical care and related activities. The indiscriminate and erratic handling and disposal of waste within health-care facilities is now widely recognized as a source of avoidable infection, and is synonymous with public perception of poor standards of health care.
It has been more than ten years since the first edition of the Blue Book. During the intervening period, the requirements on generators of health-care wastes have evolved and new methods have become available. Consequently, WHO recognized that it was an appropriate time to update the original text. The purpose of the second edition is to expand and update the practical information in the original Blue Book.
The new Blue Book is designed to continue to be a source of impartial health-care information and guidance on safe waste-management practices. The editors' intention has been to keep the best of the original publication and supplement it with the latest relevant information. The audience for the Blue Book has expanded. Initially, the publication was intended for those directly involved in the creation and handling of health-care wastes: medical staff, health-care facility directors, ancillary health workers, infection-control officers and waste workers. This is no longer the situation. A wider range of people and organizations now have an active interest in the safe management of health-care wastes: regulators, policy-makers, development organizations, voluntary groups, environmental bodies, environmental health practitioners, advisers, researchers and students. They should also find the new Blue Book of benefit to their activities.
Find similar publications here: