Use of Bedaquiline in the Treatment of Multidrug-resistant Tuberculosis
Author:

World Health Organization (WHO)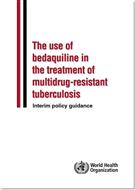 Add to Basket
The emergence of drug resistance is a major threat to global tuberculosis (TB) care and control. The World Health Organization (WHO) estimates that up to half a million new cases of multidrug-resistant tuberculosis (MDR-TB) cases (i.e. resistant to, at least, rifampicin and isoniazid) occur each year globally.
Current treatment regimens for MDR-TB are far from satisfactory: the overall duration is 20 months or more, requiring daily administration of drugs that are more toxic and less effective than those used to treat drug-susceptible TB, and have a high cost. Among MDR-TB patients started on treatment globally in 2009, only 48% were treated successfully, largely as a result of a high frequency of patient deaths (15%) and loss to follow-up (28%), which is commonly associated with adverse drug reactions, among other factors. In a subset of 200 extensively drug-resistant tuberculosis (XDR-TB) patients in 14 countries, treatment success reached only 33% overall and 26% of the patients died. New drugs that would help build a better, safer, less toxic, shorter and cheaper regimen are therefore urgently needed to reduce patient suffering and mortality.
This document provides interim guidance for the use of bedaquiline in conjunction with other WHO-recommended MDR-TB treatments. It also specifies the essential treatment and management conditions for the use of this drug. The main audiences are national TB control programmes (NTP), other public health agencies, and other public and private partners involved in planning, implementing and monitoring MDR-TB control activities. The principles and recommendations are also relevant for specialist clinicians, technical advisors, laboratory technicians, drug procurement managers, other service providers, other relevant government officials, and implementing partners involved in country-level MDR-TB service strengthening. Individuals responsible for programme planning, budgeting, resource mobilization, and training activities for MDR-TB diagnostic services may also benefit from this guidance.
Find similar publications here: