European Agreement Concerning the International Carriage of Dangerous Goods by Inland Waterways (ADN)
Print Version (French Translation)
Author:

United Nations (UN) - Economic Commission for Europe Committee on Inland Transport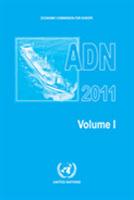 Add to Basket
The European Agreement concerning the International Carriage of Dangerous Goods by Inland Waterways (ADN) agreed in Geneva on 26 May 2000 under the auspices of the United Nations Economic Commission for Europe (UNECE) and the Central Commission for Navigation on the Rhine (CCNR) entered into force on 28 February 2008.
The Agreement currently has fourteen Contracting Parties: Austria, Bulgaria, Croatia, France, Germany, Hungary, Luxembourg, Netherlands, Poland, Republic of Moldova, Romania, Russian Federation, Slovakia and Ukraine. Other Member States of the United Nations Economic Commission for Europe whose territory contains inland waterways, other than those forming a coastal route, may also become Contracting Parties to the Agreement by acceding to it, on condition that the inland waterways are part of the network of inland waterways of international importance as defined in the European Agreement on Main Inland Waterways of International Importance (AGN).
The Regulations annexed to the ADN contain provisions concerning dangerous substances and articles, provisions concerning their carriage in packages and in bulk on board inland navigation vessels or tank vessels, as well as provisions concerning the construction and operation of such vessels. They also address requirements and procedures for inspections, the issue of certificates of approval, recognition of classification societies, monitoring, training and examination of experts.
Key features:
Essential resource - fully amended and updated from the global authority

Ensures compliance with all current guidelines

Also available in English and Russian.
Find similar publications here: