Handbook on Prisoners with Special Needs
Author:

United Nations, United Nations Office at Vienna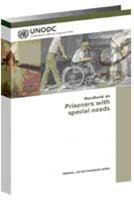 Add to Basket
A specialist publication that is proving an essential resource for all those involved in the criminal justice system as well as policy makers. This Handbook covers the special needs of eight groups of prisoners, which have a particularly vulnerable status in prisons. They are: prisoners with mental health care needs; prisoners with disabilities; ethnic and racial minorities and indigenous peoples; foreign national prisoners; lesbian, gay, bisexual, and transgender (LGBT) prisoners; older prisoners; prisoners with terminal illness and prisoners under sentence of death. All information, guidelines and recommendations provided for these groups apply to adult male and female members of these categories of prisoners. The Handbook is designed to be used by all actors involved in the criminal justice system, including policymakers, legislators, prison managers, prison staff, members of non-governmental organisations and other individuals interested or active in the field of criminal justice and prison reform.
Key features:
Full of in-depth case studies and practical recommendations

Comprehensive analysis, commentary and recommendations on eight groups of particularly vulnerable prisoners

An invaluable resource for all those involved in criminal justice

Real insight into prison reform and development.
Find similar publications here: