ADR 2013 (European Agreement Concerning the International Carriage of Dangerous Goods by Road) CD-ROM
Author:

United Nations (UN), Economic Commission for Europe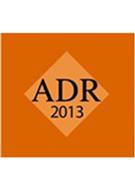 Add to Basket
This authoritative European Agreement is intended to increase the safety of international transport of dangerous goods by road (including wastes by road). The ADR 2013 CD-ROM contains the conditions under which dangerous goods may be carried internationally and has been prepared on the basis of amendments which are legally effective from 1 January 2013.
This new version contains fully updated requirements to all parts, including:
New or revised provisions concerning chemicals under pressure, including:

Electric double layer capacitors

Mercury contained in manufactured articles

Dangerous goods used as a coolant or conditioner

Salvage pressure receptacles

Lithium batteries

Dangerous goods packed in limited quantities, minute quantities and packing instructions

Revised provisions for portable fire extinguishers

New restrictions in road tunnels for dangerous goods carried in limited quantities

New provisions concerning transport of dangerous goods security
Annexes A and B of this ADR contain the conditions under which dangerous goods, when authorized for transport, may be carried internationally in regards to their classification, packing, marking and labelling; construction, testing and approval of packaging, tanks and vehicles; loading, unloading and operation of vehicles; training and safety obligations of participants.
The Working Party on the Transport of Dangerous Goods (WP.15) of the United Nations Economic Commission for Europe's Inland Transport Committee regularly examines, amends and updates these annexes to adapt them to technological and industrial progress.
ADR 2013 is also available to order as a printed edition and special offer pack. See below for more details.
Key Features
This is an essential resource for all those who transport goods classified as dangerous by their physical and chemical properties

It ensures compliance with all current guidelines, and details instructions that must be carried on each vehicle
Find similar publications here: