How to Manage Service Acquisition
IS Management Guides
Author:

Office of Government Commerce (OGC)

Publisher:

Format Publishing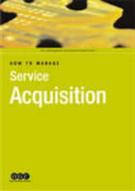 Add to Basket
Acquiring services from private sector providers can bring economy, flexibility and innovation to public sector organisations, supporting the business and allowing a better focus on key activities. The process of acquiring services must be managed to ensure that services help the organisation achieve its strategic goals, and that value for money is obtained throughout the life of the contract.
This guide provides an overview of the process of acquiring a major service, from looking at strategic aims, through determining requirements, the formal procurement process and implementation, and recompetition at the end of a contract. It also briefly covers the important factors in making a commercial arrangement work, both in formal governance and the relationship between customer and provider.
This guide complies with the principles of HM Treasury's Green Book and EC procurement rules.

Related titles:

Show all Subjects & Categories