Span Tables for Solid Timber Members in Floors, Ceilings and Roofs (Excluding Trussed Rafter Roofs) for Dwellings
Author:

TRADA Technology Ltd.

Publisher:

Trada Technology Ltd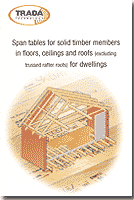 Add to Basket
The span tables replace those which were previously included in Approved Document A Structure. They have been calculated in accordance with current Regulations and relevant Standards as detailed in the text.
This document solely deals with the loadbearing capacity of the solid timber members. There are many other aspects which must be considered in designing a floor, ceiling or roof which are not included here.
In preparing this document we have assumed that the completed design will be undertaken by a competent person. The appropriate sections of the Regulations relevant Standards should be consulted for guidance.
An increasing range of structural timber composites and engineered timber components is now available. They have the advantage of being available in long lengths and deep sections for large spans, they combine high strength with light weight and are manufactured to produce consistent structural properties and low moisture contents.
Products readily available include:
Glue laminated timber - Glulam - British Standards cover the manufacture and requirements for glued laminated timber. The design of components manufactured in accordance with these requirements is covered in BS 5268-2: 2002 Code of Practice fro structural timber design. Permissable stress design materials and workmanship.
Proprietary products which are not covered by British Standars, such as those listed below, are approved for use in the UK through European Technical Approvals through independent third party product certification schemes. Design information is available from the approval certificate or from the manufacturers.
Laminated veneer lumber - LVL

Parallel strant lumber - PSL

Laminated strand lumber - LSL

Engineered components including components such as l-jaists, manufactured with the flanges made of softwood or laminated veneer lumber (LVL) and the webs of plywood, oriented strand board or hardboard. Other configurations which combine timber flanges with metal strutting webs are also available.