BS 5446-3:2005 Fire Detection And Fire Alarm Devices For Dwellings. Specification For Smoke Alarm Kits For Deaf And Hard Of Hearing People
Author:

BSI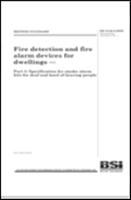 Add to Basket
Smoke alarms for use in dwellings have been available for many years, and are specified in BS 5446-1. These devices are intended to warn of the presence of a potential fire condition by emitting a loud piercing sound. However, people with hearing loss can be unaware of such an alarm sound.
There are recognised methods of alerting deaf and hard of hearing people, including the use of vibro-tactile and visual alarm devices. To provide a fire warning for those who are deaf or hard of hearing, it has become common practice for such devices to be coupled to domestic smoke alarms. There has therefore been an increasing need for standardization of such smoke alarm systems.
This part of BS 5446 addresses that need by specifying requirements for smoke alarm kits that include smoke alarms and associated warning devices used in dwellings to warn deaf and hard of hearing people in the event of fire.
This Standard includes tests and requirements for vibro-tactile and visual alarm devices, for smoke alarms by reference to BS 5446-1, and for the interconnections of these components.