Report on the Transfer of Former Military and Security Sites to the Northern Ireland Executive and ILEX Accounts 2010-2011
NIA 58/11-15, Ninth Report - Together with Minutes of Proceedings and Minutes of Evidence
Author:

Northern Ireland Assembly: Public Accounts Committee

Publisher:

TSO (The Stationery Office)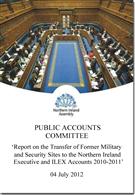 Add to Basket
'Report on the Transfer of Former Military and Security Sites to the Northern Ireland Executive and ILEX Accounts 2010-2011 (NIA 58/11-15)' details concerns over the regeneration and redevelopment of six former military and security sites that were gifted in 2003 to the Office of the First Minister/ Deputy First Minister (OFMDFM) who have spent £62 million to date preparing the sites for redevelopment by either private companies or government bodies.
Regenerating sites such as those at the Maze/Long Kesh, Ebrington Barracks and Crumlin Road Gaol is a long term process; however, progress on their economic and social redevelopment has been disappointingly slow.
In terms of sites released for private development, the Committee had particular concerns about the sale of the Malone Barracks. The Department could have received far more than the £3.8 million actually realised, had it received better advice from the Land and Property Services (LPS), and had it not rushed into selling this valuable site.
The Committee propose that sales of land and buildings should be conducted through sealed bids opened in the presence of public sector officials representing the Department or public body disposing of the asset. The sale process must be both transparent and well documented.
The Committee also expressed concern that the Department could not make use of the £870,000 achieved from the sale of the Magherafelt site to the North Eastern Education and Library Board (NEELB); and it is alarmed that the Department is unable to definitively state that the £870,000 has not been lost to the Northern Ireland taxpayer.
Find similar publications here: