Report on the Caravans Bill
Northern Ireland Assembly Report NIA 15/10/11R, First Report of Session 2010-2011 - Report Together with the Minutes of Proceedings of the Committee and the Minutes of Evidence Relating to the Report
Author:

Northern Ireland Assembly - Social Development Committee

Publisher:

TSO (The Stationery Office)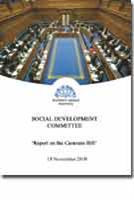 The purpose of the 'Caravans Bill' is to introduce statutory provisions, similar to those which already exist in Great Britain, for those who occupy a caravan as their main residence on sites which have been approved for that purpose.
This 'Report on the Caravans Bill' examines the clause in the Bill that creates protections for caravan owners on seasonal sites by introducing a requirement for written agreements to be in place between site owners and caravan owners.
The Committee agreed that it was content with the majority of the Bill as drafted but that several amendments should be put forward by the Assembly to the Department for Social Development.
Whilst the Bill is designed to ensure protection for Travellers with longer term tenancies on Northern Ireland Housing Executive (NIHE) serviced sites the Committee feels that sustainable provision should continue to be made for Travellers requiring short-stay caravan pitches on transit and emergency sites.
Another amendment proposes an increase from three months to one year as the qualifying tenancy period for a residential agreement.