Spectrum
HC 1258, Eighth Report of Session 2010-12 - Report, Together with Formal Minutes, Oral and Written Evidence
Author:

House of Commons - Culture, Media and Sport Committee

Publisher:

TSO (The Stationery Office)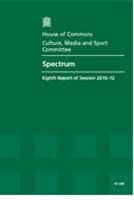 Add to Basket
'Spectrum (HC 1258)' looks at the way in which commercial spectrum holdings are allocated and regulated. This investigation was prompted by the imminence of the next spectrum auction in 2012.
Ofcom, as spectrum regulator, has a very difficult role to play in striking a balance between the needs of consumers, spectrum users and service providers, and the public purse. The report finds that Ofcom is doing a good job in striking this balance and is often having to make very difficult and commercially sensitive judgements.
Ofcom's consultation on the rules for the next auction has divided opinion among the four mobile network operators, but the Committee remarks that they rarely agree on matters concerning spectrum allocation. Ofcom proposes that one of the spectrum licences available at the auction will contain a coverage obligation requiring the successful bidder to offer mobile internet coverage to an area in which at least 95% of the population lives. The Committee believes that this does not go far enough to hasten the roll-out of mobile broadband, and recommends that the coverage obligation should be set at 98% and that Ofcom consider applying this obligation to more than one licence. The Committee agrees with proposals to implement spectrum caps and floors at the auction, this being the best viable option to ensure a competitive tension in the spectrum market place.
Ofcom's remit should be widened in order that the interests of British businesses, whose spectrum use plays an important part in the UK economy, are best served.
Find similar publications here: