Transforming NHS Ambulance Services
HC 1353, Forty-sixth Report of Session 2010-12 - Report, Together with Formal Minutes, Oral and Written Evidence
Author:

House of Commons - Committee of Public Accounts

Publisher:

TSO (The Stationery Office)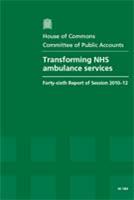 Add to Basket
In 2009-10 the eleven regional ambulance services in England handled 7.9 million emergency calls and spent 1.5 billion pounds on urgent and emergency services, the report 'Transforming NHS Ambulance Services (HC 1353)' found.
Ambulance services are expected to make 4% efficiency savings year on year in a time when public demand for services continues to rise. Performance was measured against three response time targets until 01 April 2011, but the incentive to meet these targets has led to some inefficiency, such as when more than one team is sent to incidents.
The Committee welcomes the decision to introduce a wider suite of health quality indicators to create a broader performance regime in which response times remain one indicator. There is wide variation in the cost of responding to an incident across the services, and there is a need for more consistent performance data in order to benchmark and share best practice.
Under the NHS reforms there is vagueness around who will be responsible for what:
Who commissions ambulance services?

Who is responsible for improving efficiency in ambulance services?

Who will intervene if a service has financial trouble or seriously under performs?
There is need for greater clarity on the roles and responsibilities of the Department, commissioners and ambulance trusts with appropriate structures for accountability. Other parts of the health service affect ambulance services and a more integrated emergency care system is needed to ensure that ambulances are utilised in the most efficient manner. Levels of collaboration between ambulance, fire and police services could be strengthened.

Find similar publications here:

Show all Subjects & Categories