Reducing Costs in the Department for Work and Pensions
HC 1351, Forty-seventh Report of Session 2010-12 - Report, Together with Formal Minutes, Oral and Written Evidence
Author:

House of Commons - Committee of Public Accounts

Publisher:

TSO (The Stationery Office)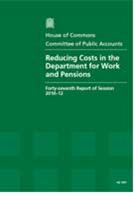 Add to Basket
This report, 'Reducing Costs in the Department for Work and Pensions (HC 1351)', examines plans for reducing costs and reforming services in the Department for Work and Pensions (DWP). The Department has to reduce its running costs by £2.7 billion by March 2015. The Department intends to achieve over half of this reduction in 2011-12.
While the Department aims to improve value for money through fundamental reform, it faces a considerable challenge in doing so at the same time as implementing savings. For example, the introduction of Universal Credit is dependent upon the successful implementation of new IT, and this requires effective resourcing of the IT back office support services in DWP. Furthermore, the Department is assuming running costs reductions from an optimistic expectation that most customers will communicate online with the Department. Both of these areas are high risk, and any delays are likely to impact on planned cost reductions. There are insufficient contingencies in place and services could be adversely affected if things do not go to plan.
Spending cuts of this magnitude necessitate fundamental reform to generate sustained efficiency savings - more focus needs to be on the cost and value of activities so that short term benefits are not prioritised above long term efficiency savings. The Department is currently unable to reconcile its proposals for reducing costs with the spending cuts required for the Spending Review (£1.45 billion in 2011-12).
The absence of a clear model of how the Department will operate in future creates uncertainty and risks unsettling staff whose morale is already low.

Find similar publications here:

Show all Subjects & Categories