Lessons from PFI and Other Projects
HC 1201, Forty-forth Report of Session 2010-12 - Report, Together with Formal Minutes, Oral and Written Evidence
Author:

House of Commons - Committee of Public Acccounts

Publisher:

TSO (The Stationery Office)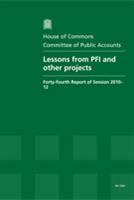 Add to Basket
'Lessons from PFI and Other Projects (HC 1201)' reports the Committee of Public Accounts' concerns about the continuing financial cost of private finance initiatives (PFI) for public organisations such as National Health Service (NHS) Trusts.
The Committee believes that some of the Government's case for using PFI has not been based on robust analysis, but on ill-founded comparisons and invalid assumptions.
The costs and benefits identified in business cases need to be revisited after contracts are signed and periodically thereafter, to inform future procurement decisions.
In particular, the Committee's view is that the Government should revisit the tax assumptions it builds into the cost and benefit case for PFI. Taxpayers could get a much better deal from PFI, and the taxpayer's position is also made worse by poor transparency of investor and contract information alongside patchy public sector commercial skills.
The Treasury and departments should make full use of existing contractual rights of access and further investor information to increase transparency and find ways for taxpayers to get a share of the profits made by PFI contractors.
At present, PFI deals look better value for the private sector than for the taxpayer. Private sector funds have built up portfolios of PFI projects from the large market that government has created, benefiting from potential economies of scale without any obligation to share such volume gains.
Government, in contrast, has a fragmented approach and is not making use of its bulk buying power.
The Treasury is seeking further efficiency savings, but achieving any savings on existing contracts will depend on voluntary agreements with investors and suppliers.

Related titles:
Find similar publications here:

Show all Subjects & Categories