Peer Review in Scientific Publications
HC 856, Eighth Report of Session 2010-12 - Report, Together with Formal Minutes, Oral and Written Evidence
Author:

House of Commons - Science and Technology Committee

Publisher:

TSO (The Stationery Office)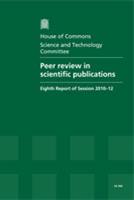 Add to Basket
'Peer Review in Scientific Publications (HC 856)' indicates that currently peer review of research in the UK is unsatisfactory causing its integrity to suffer.
The Science and Technology Committee concludes that in order to allow others to repeat and build on experiments, researchers should aim for the gold standard of making their data fully disclosed and made publicly available.
The report examines the current peer-review system as used in scientific publications and the related issues of research impact, data management, publication ethics and research integrity.
The UK does not seem to have an oversight body for research integrity covering advice and assurance functions across all disciplines and the Committee recommends the creation of an external regulator.
It also says all UK research institutions should have a specific member of staff leading on research integrity. The report highlights concerns about the use of journal Impact Factor as a proxy measure for the quality of research or of individual articles.
Innovative ways to improve current pre-publication peer-review practices are highlighted in the report, including the use of pre-print servers, open peer review, increased transparency and online repository-style journals.
The growth of post-publication peer review and commentary also represents an enormous opportunity for experimentation with new media and social networking tools, which the Committee encourages.
There should also be greater recognition of the work - sometimes considered to be a burden - carried out by reviewers, by both publishers and employers. In order to do this, publishers need to have in place systems for recording and acknowledging the contribution of those involved in peer review.

Related titles:
Find similar publications here:

Show all Subjects & Categories