Taxis and Private Hire Vehicles: the Road to Reform
HC 720, Seventh Report of Session 2010-12 - Report, Together with Formal Minutes, Oral and Written Evidence
Author:

House of Commons - Transport Committee

Publisher:

TSO (The Stationery Office)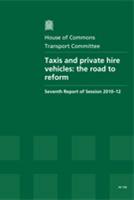 Add to Basket
'Taxis and Private Hire Vehicles: the Road to Reform (HC 720)' reports the Transport Committee's belief that rules governing taxis and private hire vehicles need urgent and wholesale reform.
The problems posed by taxis and private hire vehicles (PHVs) operating outside of the district in which they are licensed - the phenomenon called 'cross-border hire' - cannot be solved without new legislation.
In this report the Transport Committee puts forward its recommendations for such new legislation:
keep licensing a local function;

permit tighter restrictions on cross border hire;

increase the potential for local authorities to work together to create larger licensing districts; and

develop national licensing standards on certain issues which relate to public safety.

Find similar publications here:

Show all Subjects & Categories