Audit and Inspection of Local Authorities
HC 763, Fourth Report of Session 2010-12 - Report, Together with Formal Minutes, Oral and Written Evidence
Author:

House of Commons - Communities and Local Government Comittee

Publisher:

TSO (The Stationery Office)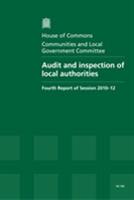 Add to Basket
'Audit and Inspection of Local Authorities (HC 763)' reports the Communities and Local Government Committee's belief that there are significant risks to accountability for public money if local authorities gain control of their own auditing, unless new legal and practical arrangements are put in place to uphold the vital principle of auditor independence.
Local authority control of audit and performance provides opportunities to improve value for money and to focus more closely on local priorities. However, new legislation must guarantee audit impartiality.
Until now the Audit Commission has been the regulator, commissioner and major provider of local government audit services (undertaking 70% of the local government audit and commissioning the remaining 30% under contract from five private audit firms). Under the changes proposed, local government will in future appoint their own auditors.
The Committee argues this legislation must set out a number of key principles to govern public audit arrangements in the future:
strict adherence to the principle of auditor independence;

a majority of independent members on any local audit committee;

additional safeguards to ensure the continued effectiveness of public interest reporting; and

a proportionate, risk-based approach to the scope of local government audit - to permit local innovation and application, particularly with regards to local value for money work.
The Committee also welcomes the Local Government Associations's (LGA) proposals for sector-led performance management, but calls on the Government to clarify arrangements for intervention in the exceptional cases of serious corporate or service failure. 
The Committee also repeats its call for the Government to examine the contribution which robust local government scrutiny arrangements could make to improving local government performance.
The Government plans to introduce a public audit bill in the autumn.

Related titles:
Find similar publications here:

Show all Subjects & Categories