2018 World Cup Bid
HC 1031, Sixth Report of Session 2010-12 - Report, Together with Formal Minutes, Oral and Written Evidence
Author:

House of Commons - Culture, Media and Sport Committee

Publisher:

TSO (The Stationery Office)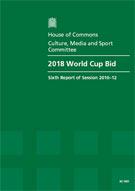 Add to Basket
In this report, '2018 World Cup Bid (HC 1031)', the Culture, Media and Sport Committee says it was appalled by allegations - made in evidence to the Committee - about the conduct of members of the Fédération Internationale de Football Association (FIFA) Executive Committee during the 2018 World Cup Bid process.
The Committee says the allegations merit a full, urgent and independent investigation. FIFA is urged to conduct a thorough review of the governance of its bid processes, modelled on the steps the International Olympic Committee took after allegations of bribery and corruption in Salt Lake City's bid to host the 2002 Winter Olympic Games.
The Football Association (FA) should also conduct a review of its 2018 bid; England's bid team appears to have lacked a number of the components of a successful bid. The FA should review its longer term strategy for engaging with FIFA and other international football authorities in order to increase its influence, including with regard to governance reform.
The Government should also review its advice and its own actions on bidding for international sporting events. In particular, it should consider its early announcement of the bid and whether sufficient attention was given to evaluating the strengths and weaknesses of the England bid.
Find similar publications here: