Services for Young People
HC 744-I, Third Report of Session 2010-12 - Volume I: Report, Together with Formal Minutes
Author:

House of Commons - Education Committee

Publisher:

TSO (The Stationery Office)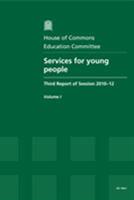 Add to Basket
In 'Services for Young People (HC 744-I)' the Education Committee warns that extending the National Citizen Service (NCS) offer to all 16-year olds could have a price tag in excess of £350 million each year even if only 50% of young people take part. This would make it more costly than the entirety of youth services currently provided by local authorities.
Instead, the Committee calls for the NCS to be retained but become a form of accreditation for existing schemes which meet the Government?s objectives.
This report criticises the Government?s failure to outline a youth policy or strategic vision for the sector. It says that youth services are suffering disproportionate cuts and that the Government should be prepared to take action to ensure that local authorities meet their statutory obligations.
The Committee finds that evidence on the effectiveness of youth services is lacking and calls for more effort by government and service providers to help guide local authorities on where best to spend scarce resources.
Youth services cannot be immune from public spending cuts and the sector must make better use of non-public forms of funding, including charitable, philanthropic and private sources.

Find similar publications here:

Show all Subjects & Categories