The Future of DFID's Programme in India
HC 616, Eighth Report of Session 2010-12 - Report, Together with Formal Minutes, Oral and Written Evidence
Author:

House of Commons - International Development Committee

Publisher:

TSO (The Stationery Office)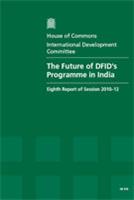 Add to Basket
'The Future of DFID's Programme in India (HC 616)' assesses whether the UK should continue to provide aid to India, examining its effectiveness in reducing poverty. The Government of India has primary responsibility for this having already reduced poverty levels from 60% in 1981 to 42% in 2005. Whilst the economy is growing, there are large pockets of poverty that still remain.
The Department for International Development (DFID) plans to change some of its programme by:
focusing primarily on three of the poorest states - Bihar, Madhya Pradesh and Orissa;

changing the sectors it prioritises; and

putting 50% of its budget through the private sector by 2015.
The Committee supports the focus on the poorest states provided it is supported by the Government of India. They recommend supporting sanitation, malnutrition, maternal and child health and social exclusion in particular.
The Committee supports the Government's aim to forge a new enhanced partnership with India with its mutual benefits from cooperation in trade and investment but the DFID must ensure UK Government policies help protect the poorest and reduce inequalities.
Assuming that growth continues at current rates, the Committee predicts over the next four years that India will have increased its capacity to tackle poverty and meet the millennium development goals.
DFID should continue to provide technical assistance where requested, but the funding mechanism should change by 2015.

Find similar publications here:

Show all Subjects & Categories