The Procurement of Consumables by National Health Service Acute and Foundation Trusts
HC 875, Thirty-fifth Report of Session 2010-12 - Report, Together with Formal Minutes, Oral and Written Evidence
Author:

House of Commons - Committee of Public Accounts

Publisher:

TSO (The Stationery Office)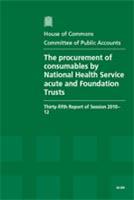 Add to Basket
'The Procurement of Consumables by National Health Service Acute and Foundation Trusts (HC 875)' discusses how the 165 National Health Service (NHS) acute and Foundation hospital trusts in England spend over £4.6 billion a year on the procurement of medical supplies and other types of consumable goods.
Each trust controls its own purchasing and can purchase consumables in various ways:
dealing direct with suppliers;

through the national supplies organisation, NHS Supply Chain; or

via the regional Collaborative Procurement Hubs.
They can also choose to join other trusts in collaborative purchasing arrangements for particular localities or types of supplies.
The Department sees the future for NHS procurement as a 'pyramid' structure with national, regional and local procurement of different types of goods, as appropriate to the products and the supplier markets. However, this theoretical model does not reflect the current complex reality, with a profusion of bodies involved in the procurement process. Its effectiveness is open to question in the emerging landscape where Foundation Trusts act independently with no explicit incentive to co-operate.
The fragmented system of procurement has produced a great deal of waste, with trusts being charged different prices for the same goods, ordering in inefficient ways and failing to control the range of products which they purchase.
The National Audit Office (NAO) has estimated that trusts could save around £500 million annually, 10% of their consumables expenditure, by amalgamating small orders into larger, less frequent ones, rationalising and standardising product choices and striking committed volume deals across multiple trusts. A lack of data has limited progress towards more efficient procurement and there has not been sufficient control over procurement practices.

Find similar publications here:

Show all Subjects & Categories