Immigration: the Points Based System - Work Routes
HC 913, Thirty-fourth Report of Session 2010-12 - Report, Together with Formal Minutes, Oral and Written Evidence
Author:

House of Commons - Committee of Public Accounts

Publisher:

TSO (The Stationery Office)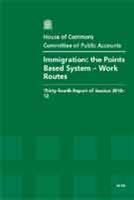 Add to Basket
'Immigration: the Points Based System - Work Routes (HC 913)' focuses on how well the UK Border Agency has achieved its objectives of an efficient and effective system for managing migration of workers from outside the European Economic Area.
The Agency implemented a Points Based System in 2008, which introduced three main routes for people to come to the UK to work, replacing the previous 39 types of work visa. The route for students to come to the UK to study, included in the new system, is not considered in this report.
The System works by awarding applicants points based on, for example, their skills, qualifications and salary and requiring them to meet a minimum points threshold. The System is objective, transparent and flexible, as the points required can be modified to respond to changing needs in the UK workforce.
However the Agency has not been doing enough to protect resident workers and ensure that migrant workers and sponsoring employers comply with immigration rules. A lack of exit controls makes this more difficult.
The Agency estimates there may be 181,000 migrants still in the UK whose permission to remain has expired since December 2008.
The Points Based System is rule-based and requires applicants to supply specific documentation to support their applications. Applicants, however, have consistently needed help to understand the rules and the Agency has therefore introduced a policy of 'evidential flexibility', allowing caseworkers to request additional information in support of applications, to prevent applications being rejected for easily corrected mistakes. It has come to the Committee's attention that this 'evidential flexibility' is not applied consistently.
The Committee welcomes plans to introduce an integrated casework system which should provide the information necessary for dealing with these issues, and expect to see improved performance once the new casework system is fully operational from 2013.

Find similar publications here:

Show all Subjects & Categories