Electricity Market Reform
HC 742, Fourth Report of Session 2010-12 - Volume I: Report, Together with Formal Minutes, Oral and Written Evidence
Author:

House of Commons - Energy and Climate Change Committee

Publisher:

TSO (The Stationery Office)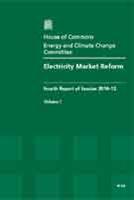 Add to Basket
Over one hundred billion pounds of investment is needed by 2020 to replace the UK's aging power stations, cut carbon emissions and maintain energy security. Government proposals for Electricity Market Reform (EMR) are supposed to encourage power companies to deliver clean affordable energy. But the Energy and Climate Change Committee is concerned that the current proposals are over-complex and could fail to attract the £110 billion investment needed in electricity generation alone by 2020.
The Energy and Climate Change Committee is calling on the Government to simplify its package of reforms to provide a more certain framework for investors. The starting point for EMR should be a clearly defined objective to reduce the carbon intensity of electricity generation in the UK to 50g of CO2 per kilowatt hour (KWh) by 2030.
The wholesale market should be fundamentally reformed to break up the dominance of the Big Six energy companies, in order to allow new entrants to invest in the UK and improve the liquidity of the market.
The long term contracts designed to encourage low carbon energy sources - known as Feed-in-Tariffs with Contracts for Difference - will work for nuclear, but different types of contract are needed for renewables and other clean technologies.
The Carbon Price Support is a necessary short term solution to weaknesses in the EU Emission Trading System, but will increase costs for consumers and could provide a windfall for nuclear and renewables generators.
The Committee also calls on the Government to be clear about the effect that reforms will have on energy bills.

Related titles:
Find similar publications here:

Show all Subjects & Categories