Work Programme: Providers and Contracting Arrangements
HC 718, Fourth Report of Session 2010-12 - Report, Together with Formal Minutes, Oral and Written Evidence
Author:

House of Commons - Work and Pensions Committee

Publisher:

TSO (The Stationery Office)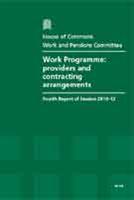 Add to Basket
'Work Programme: Providers and Contracting Arrangements (HC 718)' highlights risks involved in implementing the Work Programme nationwide, scheduled for June 2011. The Work Programme will replace the range of existing programmes that help benefit claimants find jobs.
The programme will be delivered on a regional basis by a framework of prime contractors, the majority of which will come from the private sector. These prime contractors will be paid by the Government based on their results in achieving sustainable employment for jobseekers. Prime contractors are expected to subcontract service provision to specialist local organisations, including voluntary sector providers.
There is a risk that, even under the payment-by-results model, Work Programme providers might focus on the clients they assess as being easier to help. The Committee recommends that the Government keeps the payment model under review and assesses the outcomes for all participants.
The Work Programme creates a significant financial challenge for prime contractors. This might lead to some clients receiving lower quality support and to significant costs to the Government in responding to service failures.
The Government should put contingency arrangements in place to ensure the continuity of provision for clients. The Department for Work and Pensions (DWP) should remind prime contractors that a key aspect of their role is to bear financial risk, rather than passing it on to subcontractors disproportionately.
Contracting arrangements need to ensure that subcontractors are fairly managed and that prime contractors are able to hold subcontractors to account for poor performance. The DWP must establish robust and independent arbitration and sanctioning arrangements.
Find similar publications here: