HM Treasury: The Asset Protection Scheme
HC 785, Thirty-First Report of Session 2010-12 - Report, Together with Formal Minutes, Oral and Written Evidence
Author:

House of Commons - Committee of Public Accounts

Publisher:

TSO (The Stationery Office)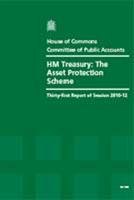 Add to Basket
'HM Treasury: The Asset Protection Scheme (HC 785)' examines the maintenance of financial stability and protection of the taxpayer in the United Kingdom.
In October 2008, the Government put in place measures to support UK banks, including purchases of shares in the Royal Bank of Scotland (RBS) and Lloyds Banking Group (Lloyds). The economic downturn continued to intensify, however, further undermining market confidence in the value of banks' assets.
To restore confidence, the Government launched an Asset Protection Scheme in January 2009 to protect banks against further exceptional losses on their assets. During negotiations to finalise the Scheme, the Treasury remained alert to developments in the market throughout 2009 and made changes to the Scheme to better protect the taxpayer.
As part of the Scheme, Lloyds and RBS agreed to meet published targets for lending to households and businesses. Following the announcement that the taxpayer would protect banks' assets, market sentiment towards the banks stabilised.
The development and implementation of the Scheme is a noteworthy achievement, but there are a number of areas where further work could be undertaken.
It is alarming that two of the UK's major banks were simply unable to provide sufficient data to assure the Treasury that their assets were not linked to fraud or other criminal activity.
While mortgage lending targets have been met, first year lending targets for businesses were not, despite assurances given by the banks.
The Treasury needs to develop other means of influencing banks' behaviour.

Find similar publications here:

Show all Subjects & Categories