Management of the Typhoon Project
HC 860, Thirtieth Report of Session 2010-12 - Report, Together with Formal Minutes, Oral and Written Evidence
Author:

House of Commons - Committee of Public Accounts

Publisher:

TSO (The Stationery Office)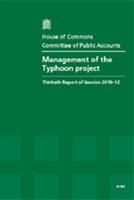 Add to Basket
'Management of the Typhoon Project (HC 860)' examines the past decisions taken on the Typhoon fighter aircraft and looks at improvements that the Ministry of Defence (MoD) can make to its delivery model to get more from industry in terms of reduced costs and better performance in the future.
The MoD originally planned to buy 232 aircraft. However, in light of changed operational requirements and significant funding constraints arising from the pressures of the defence budget, it is now ordering 160 aircraft and will retire the 53 oldest aircraft by 2019, leaving a long-term fleet of 107 aircraft. Overall, it is costing the Department £20.2 billion, £3.5 billion more than it first expected, to buy a third fewer aircraft. This is equivalent to the purchase cost of each aircraft rising by 75%, from £72 million to £126 million.
Problems with the availability of spares mean that Typhoons are not flying the hours required and the MoD is forced to cannibalise parts from other aircraft to maximise the number of aircraft available on a given day. As a result, it is not fully training all its pilots.
Support costs are budgeted at £13.1 billion, but could be as high as £16.6 billion across the life of the aircraft. The Department has identified potential savings of £3.5 billion to keep support costs within budget.
The Department will need to both reduce the cost and increase the timeliness of future collaborative spares and repairs contracts. At present, the contracts do little to incentivise better industry performance and to penalise failure.

Find similar publications here:

Show all Subjects & Categories