The BBC's Management of Its Digital Media Initiative
HC 808, Twenty-Ninth Report of Session 2010-11 - Report, Together with Formal Minutes, Oral and Written Evidence
Author:

House of Commons - Committee of Public Accounts

Publisher:

TSO (The Stationery Office)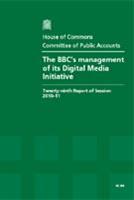 Add to Basket
'The BBC's Management of Its Digital Media Initiative (HC 808)' examines the management of the contract with Siemens and the British Broadcasting Corporation's (BBC) in-house development of the Digital Media Initiative Programme.
The Programme is designed to transform the way in which BBC staff create, use and share video and audio material. It involves the development of new technology to allow staff to manage content efficiently on their desktops, in order to give greater accessibility of digital content for audiences on TV, online and radio.
The BBC has made good progress in delivering the programme in-house since it terminated its contract with Siemens. It is now on course to deliver the complete technology by summer 2011.
With hindsight, the BBC should not have let the contract for its Digital Media Initiative go to Siemens without testing the contractor against other suppliers, especially as there was a high degree of innovation involved.
The Programme is no longer expected to deliver the overall net financial benefit of £17.9 million originally anticipated.
The BBC approved the Programme on the basis that it would cost £81.7 million and deliver benefits of £99.6 million, but now forecasts costs of £133.6 million and benefits of £95.4 million - a net cost of £38.2 million.
The Committee welcomes the Trust's assurance that it will now take a more challenging approach when considering procurements but are concerned with the ease with which the BBC found over £50 million in savings to make up for the losses it suffered through late delivery of the project and its own increased delivery costs. This suggests the need for a more vigilant approach to value for money.

Find similar publications here:

Show all Subjects & Categories