Accountability for Public Money
HC 740, Twenty-eighth Report of Session 2010-11: Report, Together with Formal Minutes, Oral and Written evidence
Author:

House of Commons - Committee of Public Accounts

Publisher:

TSO (The Stationery Office)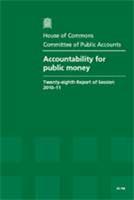 Add to Basket
This report, 'Accountability for Public Money (HC 740)' addresses an issue at the core of the relationship between Parliament and government - accountability for public spending.
The Committee is interested in the implications for accountability of two recent developments:
the governance reforms which include Ministers chairing departmental boards and greater non-executive involvement in those boards; and

the reform and localism proposals which envisage a significant devolution of responsibility for service delivery to a wide range of new bodies, in some cases independent of both central and local government.
The reform and localism proposals raised fundamental points about the current model of accountability which the report explores. In practice, government has long chosen to discharge accountability through the senior civil servant in each department, the Accounting Officer. Government vests in each Accounting Officer a direct and personal accountability to Parliament for his or her department's stewardship of public funds.
While significant sums are spent locally, local taxes account for just 5% of revenue raised and so the overwhelming majority of public spending in the UK is routed through departments and is the responsibility of the departmental Accounting Officer. Parliament vests responsibility in the Public Accounts Committee to hold Accounting Officers accountable on its behalf.
Sir Bob Kerslake has been appointed to review how the policy objectives of the reform and localism agenda might be reconciled with the current accountability model based on the Accounting Officer.
The Committee sets out its fundamental elements for an effective accountability model.

Related titles:
Find similar publications here:

Show all Subjects & Categories