HM Revenue & Customs: Managing Civil Tax Investigations
HC 765, Twenty-Seventh Report of Session 2010-11 - Report, Together with Formal Minutes, Oral and Written Evidence
Author:

House of Commons - Committee of Public Accounts

Publisher:

TSO (The Stationery Office)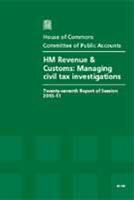 Add to Basket
'HM Revenue & Customs: Managing Civil Tax Investigations (HC 765)' finds that the two directorates in Her Majesty's Revenue & Customs (HMRC) responsible for civil investigation work brought in £8.5 billion of tax revenue in 2009-10, nearly 50% more than the total three years before. At the same time they reduced spending by 10%.
This was good progress but HMRC now has a much more stretching target. Government spending plans require HMRC to bring in an extra £18 billion of tax revenue over the next four years while reducing its costs. A crucial point is that the HMRC has lacked detailed information on how much different types of enforcement activity cost and what the returns are. It will need this information to meet the challenge of the new target.
HMRC must improve its performance in key areas. Its targets for its investigation directorates have not been demanding enough, sometimes being set below the yield achieved in the previous year. Only a quarter of civil investigations of fraud cases were completed within the 18-month target. The level of penalties being imposed in cases of fraud has been too low. And the systems for tracking whether tax debts are being collected are poor.

Find similar publications here:

Show all Subjects & Categories