Management of NHS Hospital Productivity
HC 741, Twenty-Sixth Report of Session 2010-11, Report, Together with Formal Minutes, Oral and Written Evidence
Author:

House of Commons - Committee of Public Accounts

Publisher:

TSO (The Stationery Office)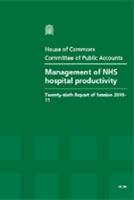 Add to Basket
'Management of NHS Hospital Productivity (HC 741)' finds that Government spending on the National Health Service (NHS) has increased by 70%, from £60 billion in 2000-01 to £102 billion in 2010-11 with around 40% spent on services provided by acute and foundation hospitals.
There have been significant improvements in the performance of the NHS, particularly in those areas targeted by the Department of Health (DH) such as hospital waiting times and outcomes for patients with cancer and coronary heart disease. But productivity has actually fallen over the last decade.
The Office for National Statistics estimates that, since 2000, total NHS productivity fell by an average of 0.2% a year, and by an average of 1.4% a year in hospitals. The trend of falling productivity will need to be reversed if the NHS is to meet the Department's productivity challenge, to deliver up to £20 billion of efficiency savings a year, by 2014-15, without compromising services.
The Payment by Results approach (a tariff for procedures) has driven some improvements, but it only covers 60% of hospital activity and there is substantial variation in hospital costs and activity. The tariff system could, though, prioritise price over quality.
National pay contracts have not yet been used to manage staff performance effectively, and consultants' productivity has fallen at the same time as they have had significant pay rises.
There are risks to the NHS being able to deliver up to £20 billion savings annually, for reinvestment in healthcare, alongside implementing a substantial agenda of reform. Productivity improvements will be key to delivering these savings.

Find similar publications here:

Show all Subjects & Categories