Delivering the Cancer Reform Strategy
HC 667, Twenty-fourth Report of Session 2010-11 - Report, Together with Formal Minutes, Oral and Written Evidence
Author:

House of Commons - Committee of Public Accounts

Publisher:

TSO (The Stationery Office)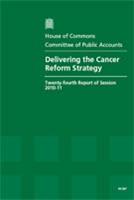 Add to Basket
'Delivering the Cancer Reform Strategy (HC 667)' examines the Department of Health's and the NHS's performance in delivering cancer services; improving information on activity, cost and outcomes of cancer services; and how the Department intends to deliver cost-effective cancer services in the new NHS.
The NHS spent £6.3 billion on cancer services in 2008-09. Tackling Cancer has been a priority for the Department since its ten year NHS Cancer Plan was published in 2000. In 2007 the Department published its five year Cancer Reform Strategy (the Strategy) to deliver improved patient outcomes. The NHS has made significant progress in delivering important aspects of cancer services, with falling mortality rates and consistent achievement of the cancer waiting times targets. However, early diagnosis does not happen often enough. And the gap in survival rates between England and the best European countries has not been closed.
There remain wide, unexplained variations in the performance of cancer services and in the types of treatment available across the country; and significant gaps in information about important aspects of cancer services, in particular information on chemotherapy, on follow-up treatment, and on the stage that a patient's cancer has reached at the time of diagnosis.
The Department cannot yet measure the impact of the Strategy on key outcomes, such as survival rates, and does not know if cancer services are being commissioned cost-effectively, due to poor data on costs and because outcomes data are not sufficiently timely. The Department must ensure the collection of high quality, comprehensive and timely data.

Find similar publications here:

Show all Subjects & Categories