Ofcom: the Effectiveness of Converged Regulation
HC 688, Twentieth Report of Session 2010-11: Report, Together with Formal Minutes, Oral and Written Evidence
Author:

House of Commons – Committee of Public Accounts

Publisher:

TSO (The Stationery Office)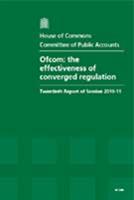 Add to Basket
In 'Ofcom: the Effectivness of Converged Regulation (HC 688)' the Committee of Public Accounts looked at Ofcom's management of its resources and also the outcomes for citizens and consumers.
There is scope for Ofcom to do more to tackle persistent problems such as the volume of silent calls, relatively low levels of switching between telecoms providers, and limited competition in fixed-line telephony. Ofcom has successfully reduced its cost base, despite having taken on a number of additional duties. However, because it has classified some of the benefits of the merger as efficiency savings, it is questionable whether the scale of these is as much as would have been expected, once the merger-specific savings have been taken into account.
Ofcom manages its expenditure within an overall cap, which is agreed each year with the Treasury. In most organisations the intended work plan will determine the budget, but in Ofcom it is effectively the other way round. This has the potential to incentivise Ofcom to make decisions based on keeping within the cap - rather than maximising value. This means that value for money - optimising the available resources to achieve intended outcomes - is not always the primary focus.
Ofcom needs to do more to demonstrate its focus on value for money and to allow the taxpayers and companies that fund its activities to assess its performance.
Ofcom sets out in its annual work plan the activities it plans to undertake, but it does not specify its intended outcomes, explain how its activities will achieve those outcomes, or set out how it will measure success. This makes it impossible to assess whether Ofcom is delivering value for money.

Find similar publications here:

Show all Subjects & Categories