Behaviour and Discipline in Schools
HC 516-I, First Report of Session 2010-11, Volume I: Report, Together with Formal Minutes
Author:

House of Commons - Education Committee

Publisher:

TSO (The Stationery Office)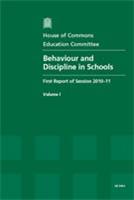 Add to Basket
Poor and disruptive behaviour in the classroom reduces children's ability to concentrate and absorb information; and it unsettles children and causes immense stress for teachers. Persistent poor behaviour in schools can have far-reaching and damaging consequences for children and can limit their horizons: this is not a problem to be ignored.
As outlined in 'Behaviour and Discipline in Schools (HC 516-I)', the Department for Education (DfE) should collect sample data on all serious incidents in schools, complemented with survey data from teachers, pupils, parents and carers, to allow assessment of the state of behaviour in schools.
A good school behaviour policy, agreed and communicated to all staff, governors, pupils, parents and carers, consistently applied, is the basis of an effective approach to managing behaviour. The Committee supports proposals to give clearer emphasis on leading and supporting staff in maintaining and improving standards of behaviour in schools. Schools should also be proactive in establishing relationships with parents and carers on behavioural matters.
There are various practical techniques for managing behaviour effectively, but these are poorly disseminated. The forthcoming Green Paper on special educational needs and disability should cover the links between special educational needs and behaviour.
The Committee supports the retention of independent appeals panels for exclusions. There are, though, serious concerns over provision of educational psychology services and access to Child and Adolescent Mental Health Services (CAMHS).
The Government should consider passing the responsibility for budgets and commissioning of all children's community health services (including mental health services and speech, language and communications needs specialist services) to local authorities.

Find similar publications here:

Show all Subjects & Categories