HM Revenue and Customs' 2009-10 Accounts
HC 502, Eighteenth Report of Session 2010-11, Report, Together with Formal Minutes, Oral and Written Evidence
Author:

House of Commons - Committee of Public Accounts

Publisher:

TSO (The Stationery Office)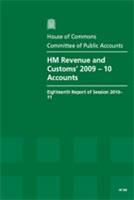 Add to Basket
'HM Revenue and Customs' 2009-10 Accounts (HC 502)' reports on how the flawed implementation of the National Insurance and PAYE Service (NPS) in 2009-10 has resulted in lasting and costly losses for HM Revenue and Customs (HMRC) and caused unacceptable uncertainty and inconvenience to the taxpayer.
Software problems delayed the processing of 2008-09 PAYE returns by a year - and data quality issues have further disrupted the issue of tax codes for 2010-11. The Department has failed to tackle a backlog of 18 million PAYE cases from 2007-08 and earlier, affecting an estimated 15 million taxpayers. The exact amounts of tax involved are not known, but estimates suggest £1.4 billion of tax was underpaid and there is £3.0 billion of overpaid tax to be refunded.
The Department has launched a programme to stabilise the NPS by 2012, to:
Demonstrate the ability of the system to process PAYE promptly, accurately and efficiently and restore customer confidence

Process everyone's PAYE within twelve months of the end of the tax year

Make sure it maximises the net revenue it collects before the deadline expires for 2007-08 underpayments of tax

Achieve its aim of processing 2008-09 and 2009-10 PAYE by the end of January 2011.
In other areas, the Department has increased its focus on preventing fraud and error in the tax credits system and is aiming to prevent £1.4 billion of error and fraud in awards for 2010-11. It is measuring its progress against a series of targets, which it is currently meeting.

Find similar publications here:

Show all Subjects & Categories