The Academies Programme
HC 552, Seventeenth Report of Session 2010-11, Report, Together with Formal Minutes, Oral and Written Evidence
Author:

House of Commons - Committee of Public Accounts

Publisher:

TSO (The Stationery Office)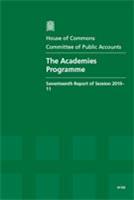 Add to Basket
Academies are state schools which are independent of local authorities and directly accountable to the Department for Education (DfE).
'The Academies Programme (HC 552)' focuses on the performance of sponsored academies (271 on 5 January 2011), usually established to raise educational standards at under performing schools in deprived areas. They have performed impressively to date, achieving rapid academic improvements and raising aspirations in some of the most deprived areas in the country.
An important feature of the sponsored model is the role of the sponsors themselves: individuals or organisations who contribute financially, directly or in kind, and who bring expertise and a new approach to the schools they run.
With signs of potential financial and governance instability on the horizon, there are already concerns: there needs to be a strong framework with which academies must comply to ensure probity and effective governance across the Programme in the future. While the DfE has issued guidance on internal controls and financial management, it has not made important elements mandatory, and many academies are not complying.
The report notes some existing sponsors have failed to fulfil the financial contributions they originally pledged to their academies.
The Young People's Learning Agency, responsible for funding and monitoring academies, are planning to overhaul academies' governance and accountability, with an emphasis on light-touch regulation. However, light-touch central regulation can only meet the standards for managing public money if it is accompanied by robust controls at academy level to ensure good governance and clear accountability.

Find similar publications here:

Show all Subjects & Categories