Ministry of Justice Financial Management
HC 574, Sixteenth Report of Session 2010-11
Author:

House of Commons - Committee of Public Accounts

Publisher:

TSO (The Stationery Office)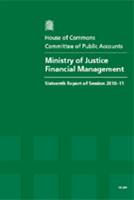 Add to Basket
'Ministry of Justice Financial Management (HC 574)' details the Committee of Public Accounts' findings in relation to the financial management of the Ministry of Justice (MoJ) in light of the Ministry's Spending Review settlement.
The Ministry of Justice delivers its services through a wide range of arm's length bodies and agencies, including the courts, prisons and probation services. The Spending Review settlement requires a 23% reduction to the MoJ's resource budget over the next four years.
Although the Ministry has a range of financial management processes in place, the Committee feels it lacks a consistent approach across its business, and to date has not integrated financial management into its policy and operational workings.
The Ministry needs to implement its Spending Review settlement on the basis of a full understanding of the cost and value of its services, so that financial cuts are best targeted to minimise the impact on frontline services. However, the MoJ and its arm's length bodies currently lack the detaled information they would need to do this.
A comprehensive understanding of the costs and value of services must be a priority. For the arm's length bodies, having a clear direction, the details of which are formally agreed by both parties, is essential as is strong leadership and a shared sense of purpose.
The Ministry now needs to oversee the performance of its arm's length bodies, such as framework documents, operational reviews, and accountability meetings. Fee recovery and fines collection have to be priority areas for improvement and the need to improve recovery rates where it does not currently recover the full cost of services provided. On fines collection, there was little sign of the sustained improvement promised when the Committee last took evidence in 2006.

Find similar publications here:

Show all Subjects & Categories