PFI in Housing and Hospitals
HC 631, Fourteenth Report of Session 2010-11, Report, Together with Formal Minutes, Oral and Written Evidence
Author:

House of Commons - Committee of Public Accounts

Publisher:

TSO (The Stationery Office)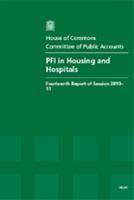 Add to Basket
'PFI in Housing and Hospitals (HC 631)' reports that the Committee of Public Accounts can find no clear and explicit justification and evaluation for the use of Private Finance Initiatives (PFI) in terms of value for money.
The Department of Health (DH) and the Department for Communities and Local Government (DCLG) are responsible for sizeable portfolios of PFI projects covering hospitals and social housing.
By April 2009 there were 76 operational PFI hospitals in England and over 13,000 homes had been built or refurbished through PFI. The letting of contracts and the responsibility for managing them is devolved to NHS Trusts and local authorities.
The DLCG and DH are responsible for overseeing their PFI programmes and reporting to the public and Parliament on value for money.
In many cases local authorities and Trusts chose the PFI route because the DCLG and DH offered no realistic funding alternative. Other concerns are central government's failure to use the market leverage that comes from overseeing multiple contracts, and the lack of robust central data to support effective programme management.
It is clear that the implementation of PFI projects could be improved. Many PFI housing procurements have taken very much longer, and cost a great deal more, than originally planned.
On hospitals, most are receiving the services expected at the point contracts were signed and are generally being well managed. There are, however, wide and unexplained variations in the cost of hospital support services, such as cleaning, catering and portering. Departments are not using their own buying power to leverage gains for the taxpayer.

Find similar publications here:

Show all Subjects & Categories