Financial Scrutiny of the Department for Transport
HC 683, Second Report of Session 2010-11, Report, Together with Formal Minutes, Oral and Written Evidence
Author:

House of Commons - Transport Committee

Publisher:

TSO (The Stationery Office)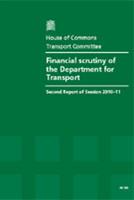 Add to Basket
'Financial Scrutiny of the Department for Transport (HC 683)' details a new approach to scrutinising the financial performance of the Department for Transport (DfT) during the life of this parliament.
The strategy rests on innovations agreed with the Department designed to make it easier for the Committee to compare information in the departmental annual review with that provided in the estimate of expenditure.
These changes are to be welcomed as they will make it easier to hold the Government to account about the delivery of its transport policy pledges including those made in the recent Comprehensive Spending Review.
However, it is essential that in moving to a simplified structure for the annual estimate of expenditure, important detail about departmental spending is not hidden from public view.
The Committee will be carefully monitoring the new arrangements to ensure that this is not the case.

Find similar publications here:

Show all Subjects & Categories