The Department for International Development's Bilateral Support to Primary Education
HC 594, Thirteenth Report of Session 2010-11, Report, Together with Formal Minutes, Oral and Written Evidence
Author:

House of Commons - Committee of Public Accounts

Publisher:

TSO (The Stationery Office)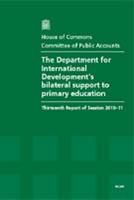 Add to Basket
'The Department for International Development's Bilateral Support to Primary Education (HC 594)' expressess the Committee for Public Accounts' concern that it is difficult to assess the value for money spending of the Department for International Development (DFID).
The coalition Government has committed to increasing the DFID's total aid spending from £7.8 billion in 2010-11 to £11.5 billion in 2014-15. The Department aims to improve and expand state primary education, focusing on sub-Saharan Africa and Asia. It works largely by influencing and financing developing country governments to pursue Millennium Development Goals (MDGs).
14 of the 22 countries the Department supports are on track to meet MDGs for primary enrolment by 2015. The Committee also expresses concern that the Department cannot adequately attribute impacts to its spending and its influence.
Even for its largest programmes, such as India, it typically contributes a low proportion of the countries' education spend.
For the Committee, the Department needs to place value for money as the primary focus when allocating resources or assessing the performance of its education programmes. It needs to focus on how many children attend and complete primary education, along with the literacy and numeracy they achieve.

Related titles:
Find similar publications here:

Show all Subjects & Categories