The Community Care Grant
HC 573, Eleventh Report of Session 2010-11- Report, Together with Formal Minutes, Oral and Written Evidence
Author:

House of Commons - Committee of Public Accounts

Publisher:

TSO (The Stationery Office)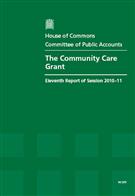 Add to Basket
'The Community Care Grant (HC 573)' reports on the Committee of Public Accounts' review of the Community Care Grant and the concerns raised during this review.
The Community Care Grant provides an important safety net for those most in need by helping them to obtain essential items. The scheme has been frozen in cash terms since 2006-07, however, and future funding is expected to remain at £141 million a year.
Applying for and awarding a grant is essentially a paper-based exercise and the quality of decision making is unsatisfactory. Around half of the appeals considered by the Committee were found to contain significant errors because decisions were based on incomplete information and without challenging applicants' statements.
At 12% of total Grant funds distributed, administrative error is too high. The risk of fraud and error is further increased by a lack of basic checks and balances: customers are not required to keep receipts and no spot checks are carried out by the Department for Work and Pensions (DWP).
Moreover, at £19 million in 2008-09 and 13% of total funds distributed, administration costs are also unacceptably high. Funding is not fairly distributed across the country and more should be done to forecast demand based on established patterns and trends.
Concerns were raised five years ago yet the Department still does not know whether fund distribution is fair. Finally, there is scope to make the purchasing arrangements more efficient.
Agreeing central contracts for frequently requested items could generate financial savings of around £14 million a year for the scheme and provide a guarantee of quality to applicants. Such an approach can be used even if responsibility for decision making transfers to local authorities.
Technological advances, such as the use of store cards, could also make purchasing easier for customers while preserving their dignity.

Find similar publications here:

Show all Subjects & Categories