Managing the Defence Budget and Estate
HC 503, Tenth Report of Session 2010-11 - Report, Together with Formal Minutes, Oral and Written Evidence
Author:

House of Commons - Committee of Public Accounts

Publisher:

TSO (The Stationery Office)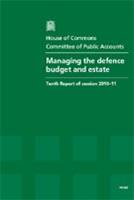 Add to Basket
'Managing the Defence Budget and Estate (HC 503)' details the Committee of Public Accounts' findings in relation to what the Committee sees as the marked failings of the Ministry of Defence (MoD) in the financial management of its budget and estate.
The MoD is responsible for over £42 billion of annual expenditure, which the Committee of Public Accounts finds has not been subject to the robust financial management necessary to control the MoD's resources effectively in the long term. The Comittee is concerned that there is a shortfall in planned expenditure against likely funding of up to £36 billion over the next ten years.
The MoD's consistent pattern of planned overspend demonstrates serious organisational failings and a dangerous culture of optimism. There are systemic failings: a tendency towards financial over-commitment, weaknesses in the financial planning processes and a division in responsibilities and accountability for financial stewardship.
The Accounting Officer has not discharged his responsibility to ensure that expenditure represents value for money, and there is no explicit financial strategy linking funding to priorities.
When financial savings have to be found there is then no clear basis for determining where cuts should be made. The appointment of a professionally qualified Finance Director is welcomed.
The defence estate is valued at over £20 billion, and costs an estimated £2.9 billion per year to run. The built estate in the UK has been reduced by 4.3% between 1998 and 2008, achieving £3.4 billion in sale receipts. But more of the estate should have been released.
The Commitee feels that the MoD does not assess its estate against clear objective criteria, or collect centrally the information and data that would allow it to manage its estate in an effective way. There is an apparent lack of urgency in the MoD's plans to improve its information base.

Related titles:
Find similar publications here:

Show all Subjects & Categories