Financing PFI Projects in the Credit Crisis and the Treasury's Response
HC 553, Ninth Report of Session 2010-11 - Report, Together with Formal Minutes, Oral and Written Evidence
Author:

House of Commons - Committee of Public Accounts

Publisher:

TSO (The Stationery Office)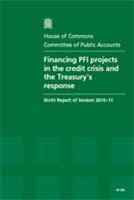 Add to Basket
The 2008 credit crisis had an enormous impact on the Government's public infrastructure programme; severe restrictions on bank lending at that time meant no sizeable Private Finance Initiative (PFI) contracts could be let. This affected the viability of a large number of infrastructure projects, including school and road building schemes, with a total investment value of over £13 billion.
'Financing PFI Projects in the Credit Crisis and the Treasury's Response (HC 553)' details the Treasury's response to making project finance available by lending public money on the same terms as the banks. However the Treasury did not put pressure on government-supported banks to either make lending available or reduce the extent of increased financing costs.
Overall, bank financing costs increased by 20-33% compared to bank charges before the credit crisis. This added £1 billion to the contract price, payable over 30 years, for the 35 projects financed in 2009. Other alternatives to the high cost bank finance were not properly explored during the credit crisis.
Greater use of Treasury loans, or direct grant funding, could have put pressure on banks to lower their charges. Neither did the Treasury adequately explore how lower cost finance sources, such as life insurance and pension funds could be encouraged to invest more in PFI projects. The Treasury also could have made more use of funding from the European Investment Bank.
The appropriate mix of financing sources for future project contracts, including public and private finance, is an issue that needs serious reconsideration.

Find similar publications here:

Show all Subjects & Categories