Funding the Development of Renewable Energy Technologies
HC 538, Seventh Report of Session 2010-11 - Report, Together with Formal Minutes, Oral and Written Evidence
Author:

House of Commons - Committee of Public Accounts

Publisher:

TSO (The Stationery Office)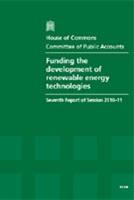 Add to Basket
'Funding the Development of Renewable Energy Technologies (HC 538)' details the Committee of Public Accounts' review of The Department of Energy and Climate Change's (DECC) series of targets to be implemented over the next 40 years.
Developing renewable energy technologies is vitally important if the UK is to help tackle climate change and maintain secure national energy supplies. But this report finds that the DECC is going to miss its target to supply 10% of electricity from renewable sources by the end of 2010.
The Committee for Public Accounts found that direct government funding for developing renewable energy technologies is delivered through a complex web of organisations that the DECC does not control, and that the consequence of this is that the Department does not have a clear understanding of how much has been spent or what has been achieved.
The Committee's evidence suggests that between 2000 and 2009, the Department and its predecessors failed to use nearly half of the resources available to it to encourage innovation in renewable energy and that this was a wasted opportunity for providing investment that could have helped increase the supply of renewable energy.
The Committee is concerned that the DECC has committed to a new, extremely ambitious and legally-binding EU target to supply 15% of all the UK's energy from renewable sources by 2020, despite not having a clear plan for how it will achieve this. The Department needs to get the best value and impacts from the Renewables Obligation.
Achieving the 2050 target for an 80% reduction in greenhouse gas emissions will need further innovation in renewable energy technologies to increase supplies after 2020 but the Department has not set out any innovation milestones it will need to meet.

Find similar publications here:

Show all Subjects & Categories