Cafcass's Response to Increased Demand for its Services
HC 439, Sixth Report of Session 2010-11 - Report, Together with Formal Minutes, Oral and Written Evidence
Author:

House of Commons - Committee of Public Accounts

Publisher:

TSO (The Stationery Office)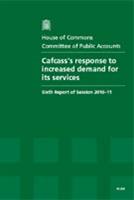 Add to Basket
Following the publicity around the Baby Peter tragedy in 2008, Cafcass (the Children and Family Court Advisory and Support Service) experienced a significant and sustained increase in demand for its services, receiving around 34% more care cases in 2009-10 than the previous year. This led to chaos across the family justice system, and exposed Cafcass as an organisation that was not fit for purpose in dealing with the increased number of cases.
Although judges in the family court are satisfied with the quality of the advice and reports that Cafcass's family court advisers provide, 'Cafcass's Response to Increased Demand for its Services (HC 439)' highlights the fact that Cafcass has failed to get to grips with fundamental weaknesses in its culture, management and performance.
This report outlines that, as well as Ofsted inspections having reported an inadequate service:
allocation of cases to courts is slow;

data held is inaccurate;

sickness absence is unacceptably high; and

staff morale is low.
Cafcass was only able to respond to the increase in demand for its services through the use of temporary measures (duty allocations) which allowed it to do less work or to delay work on cases.
Transitional arrangements, pending the outcome of the 'Family Justice Review', aim to continue reducing delays in allocating cases, while minimising the use of duty allocations. The Committee does not share the Department for Education's confidence that the substantial organisational problems will be overcome by 2011.
Strong leadership, renewed energy and focused commitment are needed to sort this situation out if Cafcass is to become the world-class organisation it aspires to be.

Find similar publications here:

Show all Subjects & Categories