Increasing Passenger Rail Capacity
HC 471, Fifth Report of Session 2010-11 - Report, Together with Formal Minutes, Oral and Written Evidence
Author:

House of Commons - Committee of Public Accounts

Publisher:

TSO (The Stationery Office)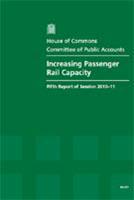 Add to Basket
The Department for Transport (DfT) is eighteen months into a five-year, £9 billion investment programme to improve rail travel, in particular by increasing the number of passenger places on trains by March 2014. The Department's latest plans show that all the relevant targets will be missed.
There will be 15% fewer extra places delivered in London in the morning peak and 33% fewer into other major cities, compared to the numbers the Department stated would be needed just to hold overcrowding at current levels.
'Increasing Passenger Rail Capacity (HC 471)' expresses the Committee of Public Accounts' concern that the failure to meet the targets set will lead to substantial increases in already unacceptable overcrowding levels by 2014 and beyond.
Rising demand for rail travel combined with serious cuts in public expenditure make it imperative that the rail industry becomes more efficient, otherwise the passenger will suffer.
DfT say that levels of crowding, and ticket prices, depend on policy decisions about the level of government subsidy.
The Committee say that the industry's ability to provide a good quality rail service, including acceptable levels of crowding, depends crucially on the efficiency of all players in the rail industry, and of Network Rail in particular.
Rail infrastructure costs more in Great Britain than in other countries, and there is a large potential for Network Rail to improve its efficiency. According to the Committee the Office of Rail Regulation should be challenging Network Rail's efficiency at a detailed level.

Find similar publications here:

Show all Subjects & Categories