Delivering Multi-Role Tanker Aircraft Capability
HC 425, Second Report of Session 2010-11 - Report, Together with Formal Minutes, Oral and Written Evidence
Author:

House of Commons - Committee of Public Accounts

Publisher:

TSO (The Stationery Office)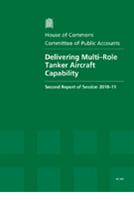 Add to Basket
In March 2008 the Ministry of Defence (MoD) signed a private finance initiative (PFI) contract with AirTanker Ltd for Future Strategic Tank Aircraft (FSTA) to provide air-to-air refuelling and passenger transport services.
The deal which sees AirTanker maintain ownership of the craft and therefore maintenance is the broadest in scope of any defence PFI contract to date. Valued at £10.5 billion over 27 years, it is also the largest ever signed.
PFI works best where activities and demand are predictable. In the case of FSTA this is not possible and so the Committee questions whether this PFI deal is sensible or affordable. For instance, the MoD did not decide until 2006 that FSTA should be able to fly into high threat environments, such as Afghanistan, which is a cause for great concern.
Just two years after the deal was signed, the forthcoming Strategic Defence Review is likely to change the demand for the services AirTanker has been contracted to deliver. 'Delivering Multi-Role Tanker Aircraft Capability (HC 425)' indicates that PFI is not a suitable procurement route for such important military capabilities.
The significant shortcomings of this arrangement as reported by the Committee include:
Assuming that PFI would be the right solution from the outset without a sound evaluation of alternative options.

Never developing a realistic fallback if the PFI solution proved unworkable.

Failing to fully understand the costs of running its current aircraft fleets alongside sub-contractor costs.

Not fixing the requirements of the aircraft until late into the process so that negotiations took over nine years to complete - more than double the expected four years.

Find similar publications here:

Show all Subjects & Categories