Mobility Scooters
HC 414, Ninth Report of Session 2009 -10 - Report, Together with Formal Minutes, Oral and Written Evidence
Author:

House of Commons - Transport Committee

Publisher:

TSO (The Stationery Office)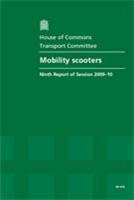 Add to Basket
In the light of anecdotal accounts of accidents involving the vehicles but little hard evidence, MPs urge the Government to collect better data on the use of scooters as well as incidents and injuries where they are involved.
To develop sound policy, we need a comprehensive evidence base detailing the number and nature of incidents involving mobility scooters on the UK's pavements and roads. Only by doing so will issues such as the legal status of mobility scooters, the appropriateness of proficiency tests and the rights of users to take the vehicles on public transport be adequately addressed.
'Mobility Scooters (HC 414)' notes that the Department for Transport has launched a consultation on many of these issues but is concerned that after a similar review in 2005 Ministers failed to act on many of its findings.
With a growing number of mobility scooter users on the UK's pavements and roads the MPs call on the Government to take decisive action where necessary.
Find similar publications here: