FiReControl
HC 352, Fifth Report of Session 2009-10 - Report, Together with Formal Minutes, Oral and Written Evidence
Author:

House of Commons - Communities and Local Government Committee

Publisher:

TSO (The Stationery Office)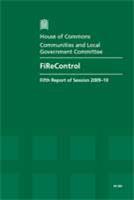 Add to Basket
'FiReControl (HC 352)' reports that the Government's programme to replace 46 local fire and rescue service control rooms with nine purpose-built regional control centres as being inadequately planned, poorly executed, and badly managed.
Given the investment of public funds already committed and the benefits that will accrue, the MPs conclude that the Department for Communities and Local Government (CLG) should press ahead with the FiReControl project so long as Ministers can agree urgently a viable project plan that will see the project go live by a target date of mid-2011; in which the main stakeholders can have confidence.
The excessive cost of abandoning the project - an extra £8 million more than it will cost to complete - indicates the Department should continue with the project so long as it also:
examines alternatives and provides assurances that FiReControl represents the best viable option for the future of Fire and Rescue Services;

resolves its contractual dispute with EADS and implements a viable project plan;

addresses the shortcomings in its management of the project;

consults fully with FRS staff and professionals to define end-user requirements; and

provides assurances that the safety and security of the Olympic Games will not be compromised by the roll-out of new Regional Control Centres.
DCLG should urgently draw up and consult on contingency plans for any further failures in the FiReControl programme to ensure ongoing safe and effective fire and rescue services cover across the whole country.
Find similar publications here: